Parc Julian
Orchard
Parc Julian field has a wonderful southern aspect and almost anything seems to grow there. We toyed with the idea of creating a vineyard but in the end felt the field better suited for old Cornish cider apple varieties. 60 trees have been planted so far and we are planning for more.
'Parc' is the old Cornish term for field and presumably 'Julian' was the erstwhile farmer many years in the past.
Locals like Dennis Laity remember when the parc reliably produced excellent vegetables including early potatoes – likely some of the earliest in the country. Now in partnership with Soul Farm we will be nurturing strips of vegetables between the alleys of Cornish apple trees.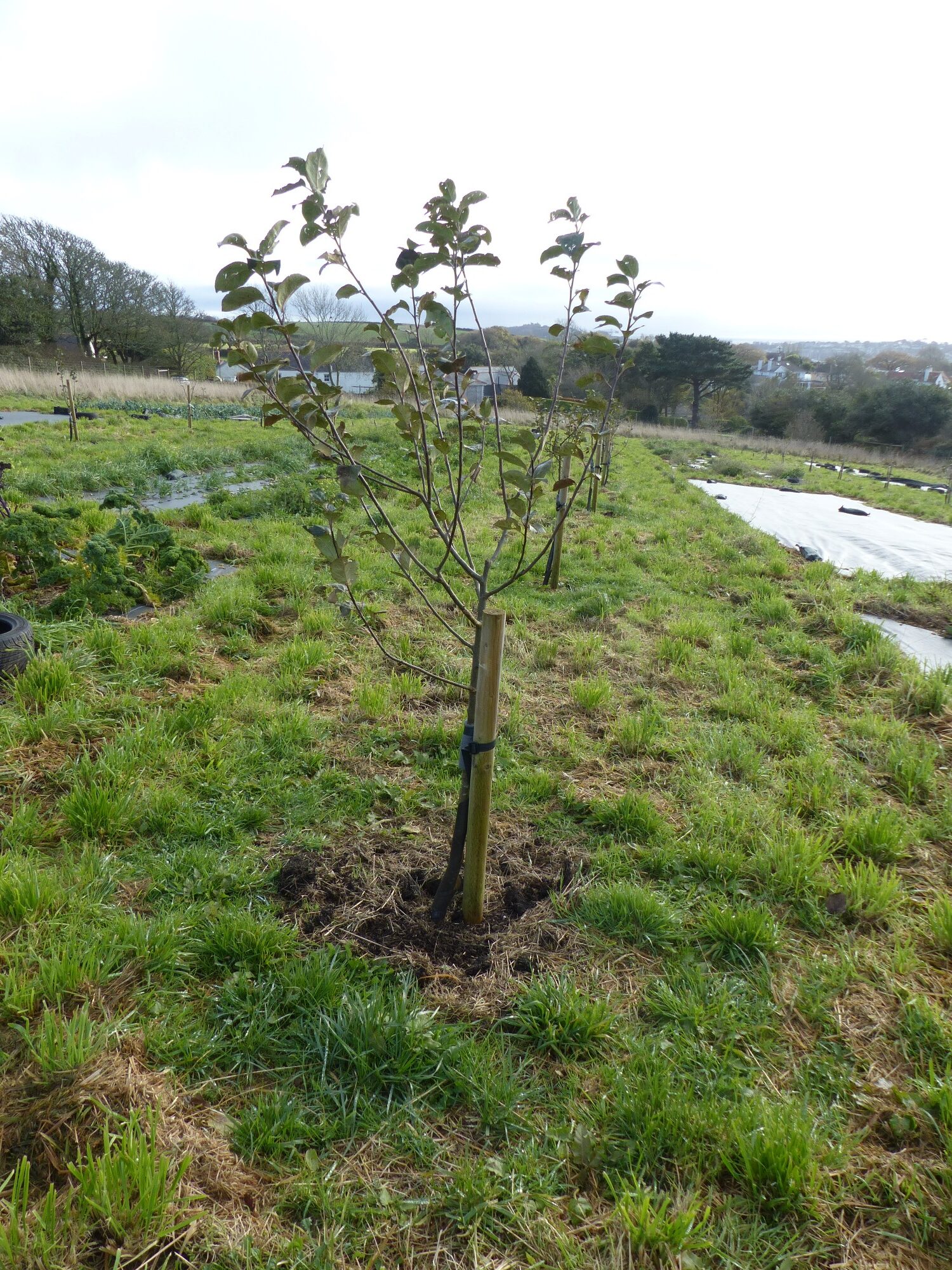 Some years ago it was noted that old varieties of Cornish apples were in danger of disappearing and much work was done to encourage their planting. We are so happy to be able to help the cause and with the considerable assistance of help of Mark at Bodmin Nursery and Simon at Budock Vean Forest Garden we have some lovely flourishing trees.
There are some wonderfully evocative names – 'Hoary Morning' ( I wonder what prompted that?) ,  Falstaff, Farmer's Glory, Cornish Gilliflower. Some sound like they are drawn from the pages of a Thomas Hardy novel – Captain Broad ,Kirkton Fair, Tan Harvey , Devonshire Quarenden , Manaccan Primrose ( the latter more Poldark perhaps).
Limberland, Trecarrel Mill, Jupiter, Scrumptious, Pixie. Chivers Delight, Limelight, Malus Poly, Kidd's Orange Red, Orleans Reinette, Cornish Pine, Tregonna King, Collogett Pippin, Tydeman's Early.
There, that's the lot. But more to come , as well as perhaps some pears.
Opening Hours
The Foodbarn is open every Saturday from 9.00 am to 1.00 pm
Where To Find Us
Tregew Farm
Tregew Road
Flushing
TR11 5UQ